You are here
March EU Electoral Campaigns Plenary
On Tuesday, 19 March, ahead of the European elections in May, AmCham EU hosted a plenary session on the 2019 European Electoral Campaigns. We believed it was timely to host a forward-looking discussion on the campaigns at both European and national level as well as the challenges that many European parties are facing in the current political climate, alongside some early predictions on how the Parliament might look after the elections.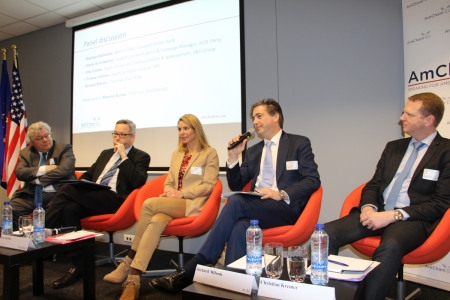 Chairman of AmCham EU, Maxime Bureau (3m), moderated the panel discussion, which featured key-representatives from the five main European political parties and groups: Reinhard Bütikofer, MEP, Co-Chair, European Green Party; Didrik de Schaetzen, Head of Communication & Campaign Manager, ALDE Party; Utta Tuttlies, Head of Press and Communication & Spokesperson, S&D Group; Christian Kremer, Deputy Secretary-General, EPP; and Richard Milsom, Chief Executive, ACRE.
The key themes revolved aorund the parties' strategies for the 2019 electoral campaign, the impacts of Brexit and the rise of populism on electoral results, the electoral turnout and the lack of a European public arena. All of our speakers agreed that the upcoming elections for the European Parliament and the consequent change of the European Commission will shape the future of Europe.
AmCham EU also had the honour of hosting Klaus Welle, Secretary-General of the European Parliament, who gave a keynote speech that highlighted the challenges that EU institutions are and will be facing in the future, as well as some possible solutions.