You are here
Closing the gender gap in ICT
Women are still significantly underrepresented in today's tech sector. European Commission data shows that only 24 out of 100 women have an ICT related degree and that only six of these are then employed in the digital sector.
On Thursday, 7 March, the Gender Initiatives Task Force hosted a breakfast to discuss the persisting gender gap in the ICT sector. Speakers from business, EU institutions and Member States brought their perspective on how to improve female access to ICT related degrees and jobs.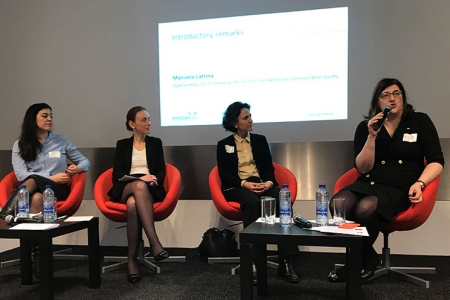 This gap can be attributed to a range of factors: lack of education on ICT skills and career paths (especially among young girls), societal pressure and stereotypes, and a lack of role models and inclusion in the workplace. Research shows that there is a short window of opportunity during secondary school to influence girls' interest in ICT. Solving this requires institutions, civil society and business to work together to change the perception of ICT as a male dominated field.
The Romanian government is a frontrunner in the field. Coding is a mandatory course in most schools and the government partners with business to train teachers and promote innovative teaching techniques. At the EU level, the European Commission is working to encourage Member States to elaborate national strategies to tackle gender gap in ICT at the local level.
Finally, many tech companies are committing to improve gender balance by rethinking their HR strategies. For example, cloud computing company Salesforce has put equality at the top of its priorities and today features a very diverse workforce, contributing to the company's impressive growth.
Speakers included:
Manuela Catrina, Romanian State Secretary for ICT;
Vessela Karloukovska, Digital Economy & Skills Unit, DG CONNECT;
Aliki Foinikopoulou, Director of EU Government Affairs and Public Policy, Salesforce;
Moderated by Goedele Van der Linden, Vice-Chair of GITF and Director of Government Relations for Europe, Marsh and McLennan Companies.