You are here
Working together to fight AMR
European Parliament advisers and assistants gathered on Wednesday, 11 April with AmCham EU members to discuss how to address the global health challenges posed by Antimicrobial Resistance (AMR), in the context of the draft European Parliament Report on a 'European One Health Action Plan against AMR.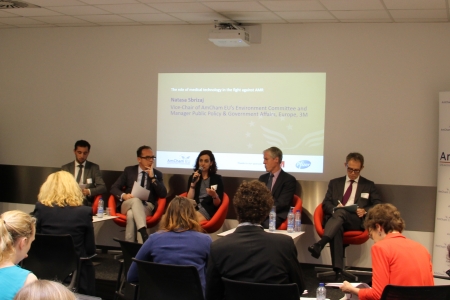 Speakers agreed that a holistic approach is needed to address the global health challenges posed by this issue. The political momentum around the threat of AMR has highlighted the urgency of the problem, and the EU can and should serve as a best practice region in tackling the complex challenge, in cooperation with national governments, manufacturers, healthcare professionals and patients.
The importance of infection prevention and diagnostics was clearly emphasised, along with the need to successfully incentivise research and development in new antibiotics, vaccines and medical technologies. Prudent use of antibiotics and improved surveillance mechanisms, including infection control programmes, are equally critical.
AmCham EU believes broad cross-stakeholder collaboration will be key to fully realising the potential of the European Commission's Action Plan, and looks forward to working closely with EU and international policy-makers and civil society in the months and years to come.
Speakers included:
Alexander Roediger, Chair of AmCham EU's Healthcare Committee and Policy Lead Oncology, EMEAC, MSD International
Andrea Chiarello, Vice-Chair of AmCham EU's Healthcare Committee and EU Government Affairs Manager, Pfizer
Natasa Sbrizaj, Vice-Chair of AmCham EU's Environment Committee and Manager Public Policy & Government Affairs, Europe, 3M
Patrick Holmes, Senior Director, Head, International Policy, Pfizer Global Policy and International Public Affairs
Maxime Bureau, Chairman of AmCham EU and Director for Government Affairs EMEA, 3M
Read AmCham EU's position on fighting AMR
For more information, please contact Ava Lloyd (ava@amchameu.eu)