You are here
Discussing healthcare and resilience in Prague
A delegation of AmCham EU members was in Prague last week to discuss European health policy with key stakeholders in the Czech Republic. Over Tuesday, 8 November and Wednesday, 9 November, and in collaboration with AmCham Czech Republic, members brought their perspectives on issues including healthcare infrastructure, public investment, the recovery and resilience facility and the European Health Data Space. The delegation met with a range of stakeholders, including Jakub Dvořáček, MHA, LLM, Deputy Health Minister for EU Affairs, Ministry of Health of the Czech Republic. We are grateful to AmCham Czech Republic for the cooperation and partnership.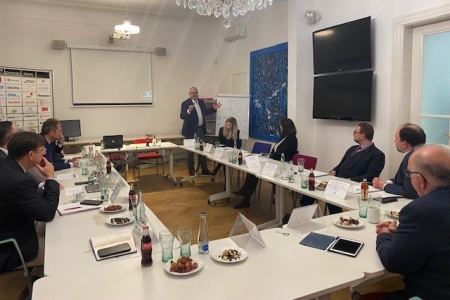 The delegation also met with:
Karel Hejduk, Director of National Screening Center, Institute of Health Information and Statistics (ÚZIS), Ministry of Health of the Czech Republic
Ondřej Májek, Ph.D. National Screening Center, Ministry of Health, MUDr
Richard Pikner, Ph.D. Councilor, Pilsen Regional Council, Health Care, Hospital Klatovy
Mgr. René Samek, MA, MSc., CzechInvest
Miloš Táborský, Ph.D., MBA, FESC, Director, National Telemedicine Center (NTMC)
Click here for more on our advocacy on the European Health Data Space.