You are here
COP27 ends, but the conversation continues
Transitioning to a more sustainable economy is the defining challenge of the 21st century, and American companies invested in Europe are committed to doing their part. Transatlantic leadership and international cooperation are key to achieving critical global climate goals, especially keeping global warming below 1.5 degrees Celsius. With those aims in mind, many members of the American Chamber of Commerce to the EU, along with thousands of delegates from all over the world, participated in the 2022 United Nations Climate Change Conference (COP27) in November.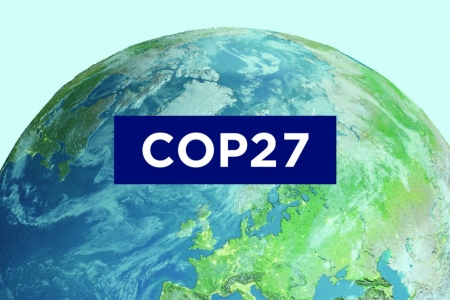 One of the most important aspects of the conference is the forum it provides for governments, non-profits, associations, the private sector and other stakeholders to dialogue on the many interconnected issues related to the climate crisis. To meet the world's sustainability targets, it will take cooperation not only across borders but also between sectors and stakeholders. Encouragingly, a greater diversity of stakeholders was represented at this year's event, particularly from industry. These interactions can – and often do – lead to new partnerships and innovations.
Even though COP27 has ended, the conversation is far from over. As individual governments move forward on their own climate legislation – including setting environmental standards – they must be guided by the principles of regulatory certainty, economic stability, transparency, international openness and evidence-based policies. The EU and the US are well positioned to lead by example in areas such as renewable and low-carbon technology, climate diplomacy and carbon pricing mechanisms. The upcoming Trade and Technology Council ministerial and the Collaborative Platform for Agriculture initiative provide further opportunities for the EU and the US to strengthen their partnership and mobilise on shared commitments to decarbonise their economies.
With its ambition to lead the green transition, the EU is already pushing forward with the green transition and aiming to achieve net zero emissions by 2050. The American business community is Europe is committed to being a constructive partner in defining and implementing the EU's climate policies. Protecting the planet is a long-term project, and every nation, organisation and individual has a role to play. Transatlantic leadership, however, can smooth the way and nudge the public and private sectors alike towards a speedier green transition.