You are here
April Plenary on competition policy in the era of digitisation
On Tuesday, 30 April 2019, AmCham EU hosted a competition-themed plenary, which explored the future of competition policy in the era of digitisation.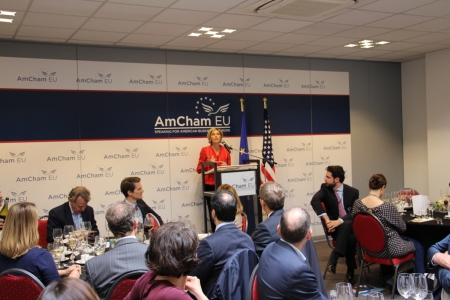 The event featured a panel on the recently released Special Advisers' Report on 'Competition Policy for the Digital Era', commissioned by Commissioner Vestager. The panel was moderated by Salome Cisnal de Ugarte, Vice-Chair of AmCham EU's Competition Policy Committee and Managing Partner at Hogan Lovells, and was composed of Oliver Bethell, Head of Competition EMEA, Google, Antonio Capobianco, Acting Head of Competition Division, OECD, Maria Jaspers, Head of Unit Antitrust Case Support and Policy, DG Comp, and Rupprecht Podszun, Professor of Law, Heinrich Heine Universität Düsseldorf.
Participants discussed various aspects of the report such as its emphasis on enforcement and the lack of concrete legislative proposals. Other key aspects concerned the discretion the report seeks to afford DG COMP in recommending to adapt certain market definitions, the concept of market dominance and burden of proof standards to the digital world.
Following the panel was a luncheon with a keynote address by Lorena Boix Alonso, Acting Director, Policy Strategy and Outreach, DG Connect, European Commission. Ms. Boix Alonso delivered thoughtful and personal remarks, opening with her experience working at DG COMP before moving to DG CONNECT. Key themes of her address included the important role of business in the legislative process and the need for transparency on behalf of the European Commission to enable such private sector participation, as well as encouraging the entry of new business into the market. Ms. Boix Alonso emphasised the success of the current Commission in mainstreaming digital, a sentiment which echoed the thoughts of the earlier panel and stressed how crucial it is for the next Commission to continue along the same line.