You are here
AmCham EU travels to Bucharest ahead of Romanian Presidency to the EU
The AmCham EU Presidency Group travelled to Bucharest, Romania from 23-25 October for a series of meetings ahead of the upcoming Romanian Presidency of the Council of the EU, commencing on 1 January 2019.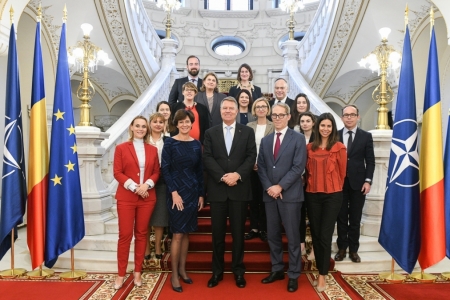 The delegation met with Minister Delegate of European Affairs, Victor Negrescu who outlined the Romania Presidency priorities:
Converging Europe: growth, cohesion, competitiveness, connectivity
A safer Europe
Europe, a stronger global actor
Europe of common values
The delegation met with several high-level officials from the Romanian government including Klaus Iohannis, President of Romania; Victor Negrescu, Minister of European Affairs; Teodor Melescanu, Minister for External Affairs; Gratiela Gavrilescu, Minister for Environment and Vice Prime Minister; Anton Anton, Minister of Energy; Sorin-Valeriu Nas, Secretary of State, Ministry for Economy, Trade, Industry and the Business Environment; Mihai Fifor, Minister of Defence; Manuela Catrina, Secretary of State, Ministry of Communications and Information Society; as well as Hans Klemm, US Ambassador to Romania.
During the delegation, AmCham Romania and AmCham EU co-hosted a roundtable on 'A European Perspective on the Future of Work: How to get it right?', featuring Susan Danger, CEO, AmCham EU, Laurin Sepoetro, Senior Associate, EU Public Policy, Uber, Anca Harasim, Executive Director, AmCham Romania and Adela Janssen, HR Executive Director, BRD Group & CDR Coordinator.
Romania's commitment to the EU and their support for strong transatlantic relationship was reiterated in each meeting. Notably President Iohannis underlined the government's commitment to better inform its citizens about the EU and its impact in Romania.
AmCham EU would like to thank the AmCham Romania team for their support throughout the preparation and during the Presidency Delegation visit to Bucharest. We would also like to thank the AmCham Romania Board of Directors for welcoming us in Romania.
A special thank you to the US Ambassador to Romania, Hans Klemm, for not only providing a thorough briefing to the delegation but also for hosting us at his residence for a reception.
AmCham EU would like to wish our Romanian friends a successful Presidency.