You are here
AmCham EU stresses importance of explaining the benefits of trade at the 27th European Banking Congress
The European economic prospects are positive, with rising growth levels and consumer confidence, which has been translating into job creation.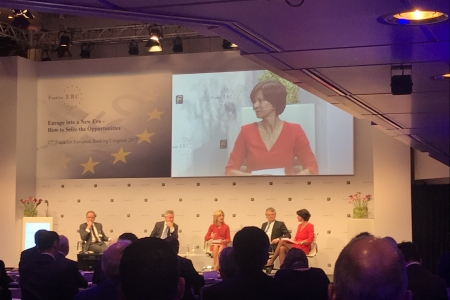 Global trade has also increased and Europe remains one of the most attractive markets in the world, offering tremendous opportunities for investors. However, challenges remain, Brexit continues to create uncertainty and threats to globalisation are still a concern. This was the focus of the 27th European Banking Congress in Frankfurt, titled "Europe into a New Era – How to Seize the Opportunities".
Susan Danger, CEO, AmCham EU took part in a panel discussion entitled, "(De-)Globalisation from a European Perspective", which addressed some of the challenges that globalization is facing today. The discussion featured Karel De Gucht, Former EU Commissioner for Trade; Guntram Wolff, Director, Bruegel; and Jorg Wuttke, Vice-President, BASF China.
Focusing on the challenges and opportunities in the current global trading system, panelists analyzed the current threats to globalization, such as populism and protectionism, and considered how to strike a balance, making sure that the global trade develops in a way that is fair for all. Susan Danger argued that business has key role to play in this process, especially in explaining the benefits that trade has brought to citizens. These points were echoed in the following panel on "Restoring the European Project" where Mario Monti, Former Prime Minister of Italy, stressed on the importance of restoring trust in institutions, governments and business.
The keynote speeches were delivered by Mario Draghi, President, European Central Bank (ECB) and Jens Wiedmann, President, Deutsche Bundesbank. Both delivered a positive message, praising the Eurozone recovery, with growth levels rising and unemployment levels falling steadily across Europe.
For more information, please contact Stefano Marmo, Policy Adviser at AmCham EU (sma@amchameu.eu).