You are here
AmCham EU participates in US Chamber Global Cyber Dialogue in Washington, DC
On Wednesday, 10 October 2018, Maika Fohrenbach, Senior Policy Adviser, AmCham EU, moderated a panel on 'Enhancing the Internet of Things Cybersecurity and Creating a More Secure Ecosystem' at the 2nd Global Cyber Dialogue organised by the US Chamber as part of its cyber week.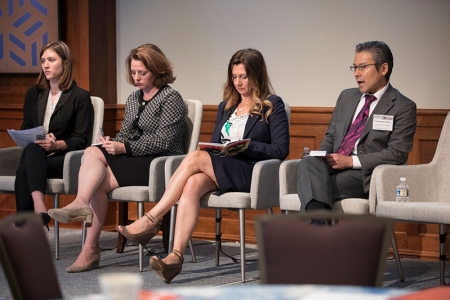 The panel featured:
· Toshikazu Okuya, Director, Cybersecurity Division, Commerce and Information Policy Bureau, Ministry of Economy, Industry, and Trade, Government of Japan
· Katerina Megas, Program Manager, Cybersecurity for Internet of Things (IoT) Program, U.S. National Institute of Standards and Technology
· Megan Brown, Partner, Wiley Rein
Please find the full agenda here.
The economic and societal potential of Internet of Things (IoT) is huge. It is predicted that by 2020 the number of connected devices worldwide will double and reach more than 50 billion. This digitalisation also represents a major challenge in terms of cybersecurity as evidenced by recent cyber-attacks such as WannaCry. IoT devices have brought the cyber risk into the physical world. In response, industry and governments around the world are fostering the development of standards, certification and best practices to secure supply chains and devices. In the EU, the European Commission proposed a voluntary framework for EU cybersecurity certification (known as the 'EU Cybersecurity Act') currently being discussed by the Council and the European Parliament. During the panel discussion, speakers stressed the importance of a multi-stakeholders and market-driven approach and emphasised the need for global cooperation.
While in Washington, Maika met with the US Department of Commerce, the EU Delegation to the US and with trade associations such as the Information Technology Industry Council (ITI), Computer and Communications Industry Association (CCIA) and US Council for International Business to discuss EU and US digital policy priorities.