You are here
AmCham EU discusses Slovak Presidency's priorities with Ambassador Javorcik
On Monday 6 June 2016, AmCham EU members met with Ambassador Peter Javorcik, Permanent Representative of the Slovak Republic to the EU, to discuss the priorities of Slovak Presidency which will begin on 1 July 2016.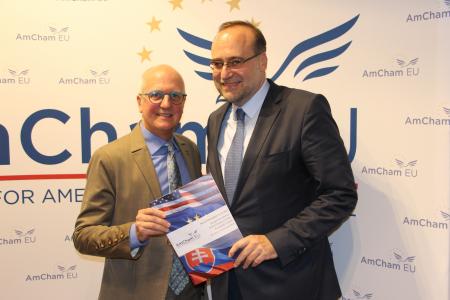 Ambassador Javorcik presented the priorities of the Presidency before answering questions from members on a wide range of issues, including the Digital Single Market, Energy Union and the Smart Borders Package.
AmCham EU looks forward to working with the Slovak Presidency in the coming months and hopes to maintain close cooperation with the Ambassador and his staff at the Permanent Representation of the Slovak Republic to the EU throughout the Presidency and beyond.
Read our Recommendations to the Slovak Presidency of the Council of the European Union here.