You are here
AmCham EU calls for simplifying customs procedures to promote e-Commerce & trade
On Tuesday 26 January, AmCham EU's Customs and Trade Facilitation Committee launched its new publication entitled 'Connecting the World: Streamlining customs procedures benefits consumers and stimulates the economy'. The brochure was designed to provide policy-makers with recommendations for developing a more simple, clear and effective EU customs framework to boost trade and create growth.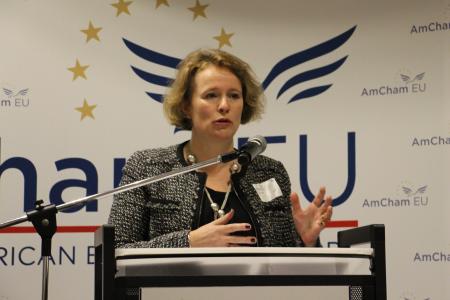 Vicky Ford, MEP (ECR, UK) and Chair of the Internal Market and Consumer Protection (IMCO) Committee, delivered the keynote address, in which she underlined how efficient and streamlined customs are vital to strengthening the economy. She also spoke about the importance of the UK remaining a committed and active member of the EU, discussing the risks of leaving the EU single market.
Rich Moore, Vice President, UPS Europe Region Operations, then presented a business case study to illustrate how simplified customs procedures could benefit SMEs and larger companies alike.
See pictures of the event here.