You are here
35th Annual Competition Policy conference focuses on competition, digitisation and fairness
AmCham EU hosted its 35th Annual Competition Policy Conference on Thursday, 22 November 2018, which explored the theme of 'Competition, digitisation and fairness'.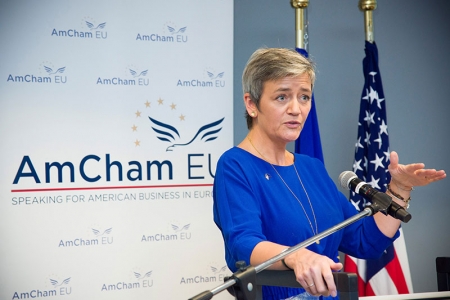 Amongst the longest-running competition conferences in Brussels, this year's edition was attended by over 100 participants.
In her keynote address, Margrethe Vestager, European Commissioner for Competition, outlined the need to enforce a clear framework of rules – including competition policy – across the globe to ensure the EU's continued attractiveness as a place to do business, in an increasingly interconnected society.
We are at a turning point in discussions on the policy framework governing competition in the digital economy – this was the key message to emerge from topics explored throughout the day. The first panel on 'Data and market power: how best to protect consumers' featuring Cyril Ritter, European Commission; Carel Maske, Microsoft; David Cardwell, Baker Botts and moderated by Jay Modrall, Norton Rose Fulbright, drew attention to the Commission's ongoing analysis into the future challenges of digitisation for competition policy at a time when other jurisdictions are looking into similar issues. The results of the Commission's consultation are expected early next year.
The extent to which the digitisation of the economy impacts the assessment of evidence and associated evidentiary requirements in merger review was a key question addressed during the second panel, featuring Marco Ramondino, European Commission; Anneleen Straetemans, AB InBev; Conor Opdebeeck-Wilson, Cleary Gottlieb Steen & Hamilton, Angélique de Brousse, Freshfields Bruckhaus Deringer and moderated by Tomas Nilsson, Latham & Watkins. The volume and availability of data presents both challenges and opportunities for competition authorities, highlighting the need for a holistic approach in assessing potential anti-competitive behaviour.
To better address some of these challenges, a number of national competition authorities have launched initiatives looking into the effects of digitisation. The third panel featuring Sandro Gleave, Bundeskartellamt, Olaf Christiansen, Bertelsmann, Karen Jelgerhuis Swildens, Booking.com, Susanne Zuehlke, Wilkie Farr & Gallagher and moderated by Salomé Cisnal de Ugarte, Hogan Lovells, underlined the need for increased coordination and early, clear guidance to build greater certainty for businesses operating globally.
Read Commissioner Vestager's keynote address