You are here
Susan Danger discusses EU-US economic ties
Susan Danger, Managing Director, AmCham EU, discusses EU-US economic ties in an interview with Commerce Germany, a business journal published by AmCham Germany.
To read the full interview click here and scroll to page 26 or click the above headline.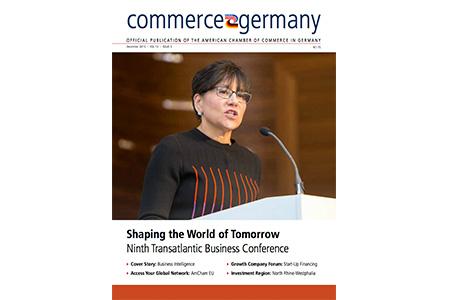 Full interview transcipt
Why is the EU an interesting investment location for American investors?
For the past fifteen years, the EU and US have been each other's most important trading partners with Europe attracting over 55% of total US global investment. We share common values, have high standards of health and safety, and a well-educated hard-working workforce. I think when you take all these factors into account, Europe is a natural investment location for US investors
Please describe the economic partnership between the US and EU
If we look at the transatlantic economy, we see that it remains the world's largest and strongest, accounting for 35% of world GDP and indirectly employing more than 15 million workers on both sides of the Atlantic. Aggregate US investment in the EU totaled a staggering €2 trillion in 2014, directly supporting 4.3 million jobs. These are important facts to bear in mind, especially now that we are working on enhancing our economic integration through TTIP. We believe that TTIP will create export opportunities – particularly for small and medium sized businesses – on both sides of the Atlantic.
In what state is the European economy in regards to the global economic crisis?
With real GDP in the EU estimated to grow at 1.8% this year, the European economy seems to be recovering from the global economic crisis, albeit growth is uneven across member states. Some economies, such as Poland or Ireland, will achieve growth rates above 3% in 2015, but several others are growing at a more sluggish rate. The same can be seen across industrial sectors. The pharmaceutical and automobile sectors are growing steadily while chemical, metallic or mineral sectors are also doing so but at a much slower pace.
How does AmCham EU support its members?
We are a multi-sectoral, membership-led, membership-driven organization and we support and assist our members in the following areas: advocacy and influence on issues impacting their businesses; providing information and intelligence; offering networking opportunities and access to stakeholders; and corporate branding.