You are here
Support Relay for Life from home
Over the last few years, many AmCham EU staff and members have participated in Relay for Life, an initiative to raise funds for the fight against cancer. For 24 hours, participants take turns walking the track, as a symbol of the constant battle of patients and their families. This is a cause close to the hearts of many of us. Every year, we walk to honour those who have survived, those who are fighting and those who are no longer with us, including our dear colleague Andreas Galanakis.
While this year's Relay for Life is cancelled due to the ongoing COVID-19 pandemic, the fight against cancer continues. Therefore we would like to invite you to support research and make a donation. All funds will go to the Fondation contre le cancer/Stichting tegen Kanker. Find out more about how your donation can make a real difference.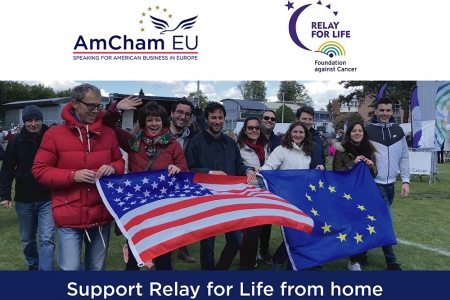 In the run-up to the weekend when Relay for Life was supposed to take place (16 and 17 May), we would also like to show our continued support for this initiative. We will not be able to walk together, but we can take a moment to think about Relay for Life and all the reasons why we have been walking over the years. To show your support, we invite you to take a photo of yourself during your next walk (while respecting social distancing/instructions from authorities) and send it to us at TLO@amchameu.eu. We will combine all the photos to share them in our communications and on social media as part of a campaign from the organisers of the Relay.