You are here
AmCham EU participates in AmChams in Europe delegation visit to Washington, DC
Susan Danger, Managing Director, and Roger Coelho, Policy Manager, were in Washington DC from Sunday 8 May to Tuesday 10 May for the USA Conference of the AmChams in Europe (ACE) network. The ACE delegation included representatives from 35 AmChams in Europe and wider Europe.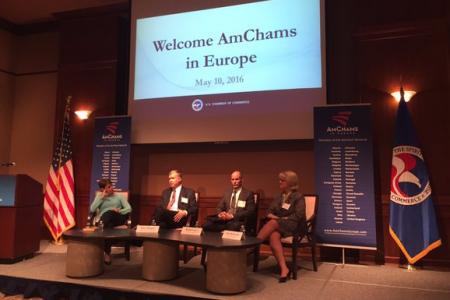 The delegation was hosted by the U.S. Department of Commerce for a panel discussion on digital issues which featured remarks from Bruce Andrews, Deputy Secretary of Commerce, U.S. Department of Commerce. The delegation also met with the U.S. Chamber of Commerce. At the Chamber the delegation had a series of briefings which touched upon the US elections, US economy and also broader policy issues. The delegation ended with a networking reception focused on the Transatlantic Trade and Investment Partnership (TTIP).
While in Washington, Susan Danger was also a guest speaker at a roundtable organised by the Global Women's Innovation Network (GlobalWIN). GlobalWIN brings together women who work in innovation-driven fields and aims to provide a forum for female leaders to grow personally and professionally, while contributing to key policy debates. Susan spoke about the many challenges in Europe, including the rise of populism, a growing anti-globalisation sentiment, and how US companies are navigating uncertainty in the EU. Susan also discussed AmCham EU's recently-launched Gender Initiatives Task Force, and AmCham EU's continued work in the field of gender diversity.
Following the ACE delegation visit, Susan Danger and Roger Coelho met with Linda Menghetti Dempsey, Vice President, International Economic Affairs, National Association of Manufacturers; Ziad Haiger, Special Representative for Commercial and Business Affairs, Bureau of Economic and Business Affairs, U.S. Department of State; Greg Burton, Director, Office of European Union and Regional Affairs, Bureau of European and Eurasian Affairs, U.S. Department of State; and Tim Bennett, Director-General/CEO, Trans-Atlantic Business Council (TABC).