You are here
The Transatlantic Economy 2021
Wednesday, March 24, 2021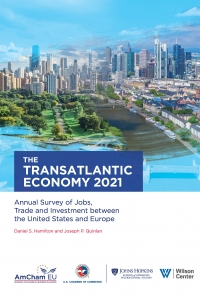 The Transatlantic Economy 2021 presents the most up-to-date facts and figures about the economic relationship. The research was conducted independently by Daniel Hamilton and Joseph Quinlan for the Wilson Center's Global Europe Program and the Foreign Policy Institute at Johns Hopkins University's School of Advanced International Studies.
The study includes dedicated profiles for 30+ European countries and all US states.
This year's study also features new insights into the impact of the COVID-19 pandemic, prospects for the economic recovery, Brexit, relations with China and the transatlantic energy economy.