You are here
Uniting for diversity: 22 industry contributions to a more inclusive society
On Tuesday, 7 July 2020, AmCham EU launched 'Uniting for diversity: 22 industry contributions to a more inclusive society', a report aimed at fostering best practices within the business community and beyond. On the occasion of the launch AmCham EU hosted an event featuring Commissioner for Equality Helena Dalli, Monica Semedo, Member of the European Parliament for Renew Europe and Aongus Hegarty, Chair of AmCham EU's Executive Council and President, International Markets at Dell. The panel discussion was moderated by Elizabeth Krahulecz, Chair of the AmCham EU Diversity & Inclusion Task Force and Associate Partner at EY. The event provided multiple reflection points on where Europe stands when it comes to Diversity and Inclusion.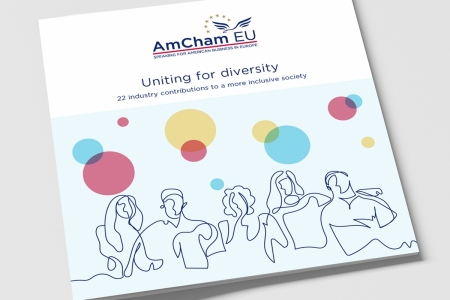 Commissioner Dalli highlighted the work of the Commission on the topic and stressed the importance of effective implementation of legislation to achieve real change in society. The key role of education in creating diverse role models was highlighted by Monica Semedo, who also spoke about her experience navigating the European political space. Finally, Aongus Hegarty pointed out that more diverse teams lead to better services and improve creativity, stating that business leaders worldwide must walk the talk and drive companies towards greater diversity & inclusion.
Although a lot has been done to address inequality in Europe, it was agreed that much more must be done, with the private sector, government and civil society all having a role to play in the critical challenge towards equality in Europe. Read AmCham EU's report Uniting for Diversity: 22 industry contributions to a more inclusive society here.
For any questions related to the report or to AmCham EU's Diversity & Inclusion Task Force, contact Emilie Bartolini (EBA@amchameu.eu).