You are here
Ukraine invasion: AmCham EU commends unity from EU, US and partners
The American Chamber of Commerce to the EU (AmCham EU) continues to condemn Russia's invasion of Ukraine in the strongest possible terms. As we emphasised over a week ago, we stand with the people of Ukraine as they face incredible suffering and violence.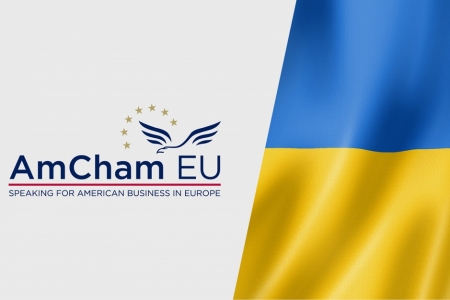 We cannot and should not remain silent in the face of the senseless loss of human lives. Russia's actions are threatening the fundamental values upon which our societies are based.
Business is an integral part of society and, as such, has an important role to play in difficult times. Many companies – beyond our membership only – are taking action to support the Ukrainian people and facilitate humanitarian aid. We urge the private sector to continue to step up and engage. Fellow American Chambers of Commerce across Europe and Eurasia, our sister organisations, are also doing their utmost to channel aid and support refugees, in particular in neighbouring countries.
We commend the EU, the US and many other partners for their swift reactions. The severity of the situation continues to require unity and solidarity across the Atlantic and with the international community.
We fully support the call from the International Committee of the Red Cross to uphold humanitarian law and protect civilians. All ongoing efforts to avoid further escalation and safeguard peace are critical.