You are here
Trust key to restoring optimism for global trade
On Tuesday, 15 June, AmCham EU CEO Susan Danger took the stage at the GLOBSEC 2021 Bratislava Forum to discuss the global trade agenda, and whether optimism for multilateralism has now been restored after President Biden proclaimed the US to be 'back'.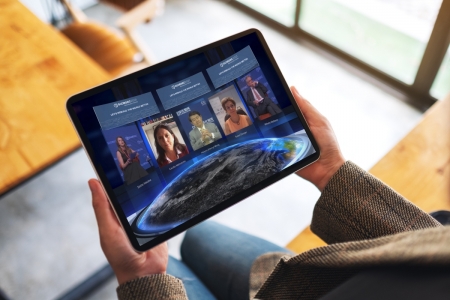 The engaging and lively discussion took place in hybrid format, with moderator Sasha Vakulina, Business Editor, Euronews appearing live in Bratislava alongside panellist Wilhelm Molterer, Chairman, Board of Directors, GLOBSEC in front of a limited audience, while fellow panellists Cecilia Malmström, Visiting Professor, University of Gothenburg, and Huiyao Wang, Founder and President, Center for China and Globalization logged in remotely.
The discussion focused on how to restore optimism in the global trading system in the aftermath of the COVID-19 pandemic. Susan Danger opined that the most important element is trust; and that this must first be built between the transatlantic partners in the EU and the US by addressing the most pressing irritants in their relationship. These irritants include the aircraft subsidies dispute, which has been litigated for over 17 years; the US section 232 import tariffs on steel and aluminium emanating from the EU; the ongoing search for a successor agreement to the Privacy Shield data transfer mechanism between the EU and the US, since the former's invalidation by the Court of Justice of the EU in 2020; and the WTO's reform agenda.
She voiced her wish to see a strong, balanced and inclusive economic recovery that encompasses both sides of the Atlantic, but also recognised the transatlantic responsibility to the support developing world's recovery from the COVID-19 pandemic. She expressed the wish to see remaining barriers trade to be lifted, while considering a roadmap to address emerging issues. She also called for practitioners to sell the need for trade and the benefits of multilateralism better to citizens, who are increasingly concerned by perceived erosions of sovereignty.
Fellow panellist Wilhelm Molterer agreed that trade is key to the economic recovery, and that now is the right time for optimism. He shared the view that restoring the WTO is fundamental to the future of multilateralism. Huiyao Wang also expressed his optimism for global trade – reminding the audience that trade had brought prosperity and peace to all areas of the globe. However, he acknowledged that growing tendencies towards protectionism and deglobalisation in recent years must be addressed. Cecilia Malmström pointed to the fact that even in the height of the pandemic, trade has worked. Vital shops remained open, while shelves remained stocked. She concluded that the pandemic has highlighted supply chain fragilities, but that companies have already begun adapting by diversifying their supply lines and developing resilience.