You are here
A true partner for French aerospace
Boeing has been a true partner of the French aerospace industry for 60 years. Its operations include commercial aviation, defence and space and global services activities across three French locations, including headquarters in Paris, as well as sites in Toulouse and Senlis. Read how working with the French industry benefits both Boeing and its local partners.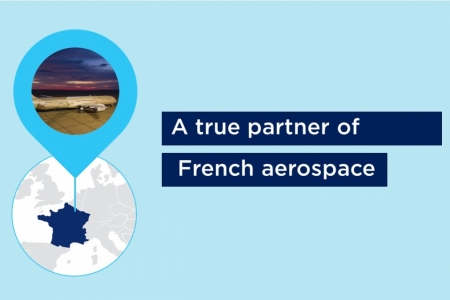 In 2018, Boeing spent approximately $6.3bn – in direct sales alone – in France, a country reputed for its very strong aerospace sector. There are more than 100 French suppliers involved in Boeing's programmes, which equates to more than 35,000 jobs. More than 50 of the 100 French suppliers are directly contracted by Boeing.
One such supplier is Safran Group. A global brand in its own right, Safran Group's partnership with Boeing has gone from strength to strength since 1974 when CFM International, a joint venture involving the Aircraft Engines division of Safran, became the sole engine supplier to the Boeing 737. Safran Group is contributing to the success of most of Boeing's programmes, including the 777X, the most recent aircraft still in development, for which it provides engine components, fuel distribution, gauging systems, electric wiring, galleys and evacuation slides. Safran Group also works with Boeing on a new landing gear for its 2020 ecoDemonstrator flight test research programme. Safran Landing Systems has been able to provide a bespoke piece of technology to match Boeing's specific noise-reduction needs, reducing the noise of the landing gear by 20% on standard programmes.
Working with Boeing entails a number of advantages for local suppliers. These include diversification of their customer pool; reduced dependency towards a single original equipment manufacturer; job creation; and development of pioneering new technologies. The company counts on an ecosystem of local suppliers with unique expertise and know-how in order to deliver its worldrenowned carriers and systems across the globe.
Acknowledgement: Jeremy Rostain, Global Supplier Development Manager – Boeing
The success story of global trade lies in strong partnerships between companies of all sizes. Find out more about European ecosystems connecting small businesses with larger American companies.