You are here
Trade Across the Pond: AmCham EU CEO offers perspectives on EU-US relationship
How realistic are the high expectations of the EU-US trade relationship? That was the question that our very own CEO Susan Danger sought to answer, alongside fellow panellists Rupert Schlegelmilch, Director, DG Trade, European Commission; and event co-host Karl Haeusgen, President, VDMA in a discussion co-hosted and moderated by Reinhard Bütikofer, MEP (EFA/Greens, DE).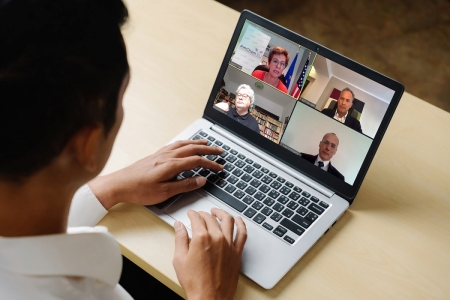 The discussion touched upon the many aspects of the EU-US trade relationship, from current tariff regimes and how to solve them, to areas for future cooperation. It explored the respective parties' roles in the rules-based multilateral trade order, and their approach to the WTO. Furthermore, the panellists explored the possibility of renewed trade negotiations between the two sides. The priorities for the economic recovery were also highlighted, as both sides seek to return to growth with a more sustainable model.
In her intervention, Susan Danger struck a positive tone, emphasising that the transatlantic economic partnership is far more than the sum of trade in goods and services. She reiterated that commercial ties between the two sides are orders of magnitude deeper than the balance of trade. In the wake of strong political headwinds that have seen flashpoints arise on a multitude of issues, including escalating trade tensions and tariffs; expanding restrictions on foreign investment; differing objectives on climate change; and quarrelling over defence spending and the future of NATO, she called on both sides to now use the renewed momentum in the political relationship to 'build back bridges'. She called for cooperation in a range of issues, from trade in technology and defining artificial intelligence standards, to climate targets and clean technology, and clinical research.
A fruitful and engaging discussion was rounded off by Reinhard Bütikofer, MEP, who noted that while there are legacy issues to deal with, and new issues with a potential for controversy, time is of the essence for both sides of the Atlantic, and the work to map our collective way forward must be constructive and earnest.