You are here
'Striving to be an inclusive employer': Susan Danger's perspectives on diversity and inclusion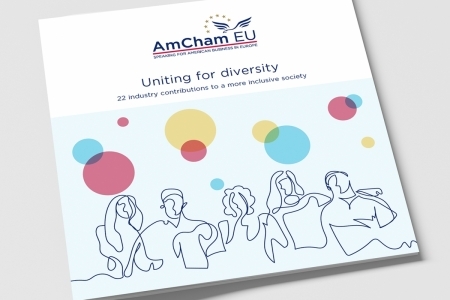 Nick Pawley [NP]: What does 'diversity' mean to you?
Susan Danger [SD]: Diversity means difference. Different gender, different nationality, different cultural upbringing, different education, different age, different race, different sexual preference or gender identity, different experiences of life and work. Each perspective brings with it a unique value; a different way to approach a problem. When these approaches are brought together to collaborate, they have the potential to form incredibly powerful resources.
One category of diversity that I do feel gets overlooked at times is the generational perspective. I have seen first-hand that sometimes candidates can be overlooked on the basis of their seniority. That is why I am particularly impressed by J.P. Morgan's ReEntry Programme in our new brochure. The programme gives mid-career professionals who have taken a two-year career break the chance to rediscover their profession in a six-week paid placement, with coaching, mentoring and networking opportunities.
NP: What does 'inclusion' mean?
SD: Being inclusive as an employer means creating an environment where everyone feels part of the organisation. This is about enfranchisement and empowerment. There cannot be a dominant group or mindset. Individuals must be given the trust and the opportunity to express themselves and to own their achievement within the organisation.
I believe that AmCham EU is an inclusive environment for employees – all staff are enfranchised and work hard for the organisation. We share an open-mindedness. As a non-partisan organisation, we are well-versed in seeking to engage in dialogues with a wide range of different interest groups. That said, we acknowledge that we are not perfect. We will soon hold a training session on unconscious bias, to try to raise awareness of this, and how it can cause harm. It is important to continually seek self-improvement in order to create a more pleasant and safe environment for others.
NP: As a woman, have you ever been subjected to discrimination in the workplace?
SD: I think I am lucky to say that I have never been overlooked for promotion on that basis. AmCham EU is very fair between sexes – our secretariat has around 80% female representation, while our board is a 50-50 split. For us in the secretariat, hard work has always been the determinant of remuneration and promotion, not other factors.
Of course, as a woman I have been subjected to the kinds of microaggression that my male counterparts would never have to put up with: whether it is a remark on my appearance, or my clothing choices, or being 'man-terrupted' during meetings. I do think that men have a tendency to treat women of equal standing differently than they would treat a fellow man, based on my personal experience. This comes back to unconscious biases at play. That is why it is very pleasing to see so many women's networks and programmes in our new brochure, such as Dell, The Estée Lauder Companies, MSD and Raytheon Technologies' Collins Aerospace - it is important for women and all minority groups to be allies in the search for equality.
NP: Of all the examples listed in AmCham EU's new brochure, which one caught your eye most? Why?
SD: Mattel's story of Barbie and the array of careers that she has had since the 1960s was one that stood out to me. Mattel is committed to tackling the 'dream gap', where young girls start to develop self-limiting beliefs due to their gender. The company has developed a range of dolls to celebrate female role models inspired by real women, including athletes, scientists, chefs, journalists and many more. This is a great way to encourage girls to believe in their potential.
Another one that I really liked was the example of Facebook's engineers overcoming unconscious racial biases in their artificial intelligence systems due to the datasets that the systems had been trained on, and the subsequent development of guidelines for inclusive AI. This is a salient topic in Europe at the moment – it is important that we don't transfer our human flaws onto the robots!
NP: What steps has AmCham EU taken to be an inclusive employer? Could you do more?
SD: AmCham EU has a very open recruitment policy. We try to be an equal opportunities employer, and adapt our workplace to the needs of our staff. We have introduced flexi-time and equipped our staff with the tools to work effectively outside of the office when needed due to family constraints. We have an intern programme that is fairly remunerated, which gives interns of more modest socio-economic backgrounds the chance to apply, contrary to a number of internships in the EU affairs profession, which are often unpaid.
However, we can always do more. The EU affairs scene is a very white, able-bodied scene in general. I am proud of our members FTI and CNH Industrial for the work that they exhibit in our brochure in tackling these issues. FTI has teamed up with the Taylor Bennett Foundation to encourage graduates of colour to consider a career in Public Relations and Corporate Communications. CNH Industrial has taken a number of steps to become an equal opportunities employer of disabled people, and has become the first industrial company in Spain to integrate people with cognitive impairments into a production line. As AmCham EU, we have committed to have an internal conversation and produce an action plan to become an even more inclusive employer going forward.
As our brochure states, small changes today will make big differences tomorrow. We must aspire to make the changes we need for a more inclusive society.
Check out our new brochure: Uniting for diversity: 22 industry contributions to a more inclusive society