You are here
The role of digital innovation in global trade
On Thursday, 3 November, Roger Coelho, Senior Policy Director, AmCham EU, moderated a panel on digital trade at Chatham House in London. The 'harnessing the power of digital trade' panel explored how digital trade agreements and international cooperation can become tools for integrating emerging technologies in the global economy.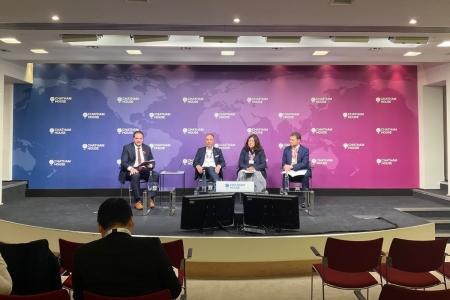 The speakers described their concerns about the current digital regulatory environment – such as fragmentation and data localisation – and discussed strategies for overcoming recent trends towards digital protectionism.
The panellists included:
Rhys Bowen, International Director, Department for Digital, Culture, Media and Sport, United Kingdom
Mary Elizabeth Chelliah, Principal Trade Specialist, Ministry of Trade and Industry, Singapore
Ben Digby, Head of Global Trade Policy, HSBC
Minako Morita-Jaeger, Senior Research Fellow in International Trade, Department of Economics, UK Trade Policy Observatory, University of Sussex
The panel was part of Chatham House's 2022 Global Trade Conference, which featured discussions on the effects of the green agenda on global trade and the future of supply chains. In times of uncertainty and instability, it is essential to promote constructive dialogue across all sectors and governments.