You are here
Risk communication holds the key to sustainable agri-food
Risk communication is of utmost importance to the agri-food industry – especially when it comes to differentiating 'hazards' from 'risks'. That was the key takeaway from AmCham EU's sixth Agri-food Risk Roundtable, held on Wednesday, 8 September. This year's edition focused on how risk assessment and management should be amplified by solid risk communication to generate sound risk perception. The roundtable brought together policy makers from both sides of the Atlantic, industry representatives, NGOs and academia to share best practices regarding different models of risk perception in the food and agriculture sector.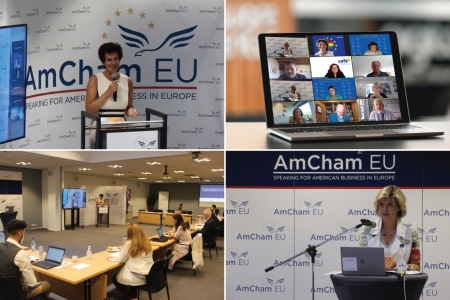 Introductory remarks from AmCham EU's CEO, Susan Danger, Matjaž Guček, Director-General and Chief Veterinary Officer, Ministry of Agriculture, Forestry and Food, Slovenia and Clay M. Hamilton, Associate Administrator, Foreign Agricultural Service, U.S. Department of Agriculture emphasised the important role that partnerships and common goals will play in developing effective risk communication to help unlock innovation and promote more sustainable food systems.
The discussion was divided into two panels, the first of which focused on the role of risk assessment and management in enhancing the sustainability of food systems. The second focused on sustainability considerations in the decision-making process. Both panels were moderated by Marie-Cécile Damave, Head of Innovation and International Affairs, Agridées, who navigated the exchange between the distinguished panelists that shared views on how to build trust and confidence in food systems on both sides of the Atlantic between consumers, producers, regulators and industry.
AmCham EU aims to promote sustainable production and consumption through better regulation, trade and international cooperation in line with the EU's Farm to Fork Strategy. For more on our work on the agri-food sector, read our blogpost on risk communication in the agri-food sector and check out our position paper on the EU's Farm to Fork Strategy.
Questions about the event or AmCham EU's work on agri-food issues? Contact Nadia Allen, Senior Policy Adviser (NAL@amchameu.eu)