You are here
Priorities of DG TAXUD for 2016 discussed at AmCham EU Plenary
AmCham EU's March Plenary meeting exceptionally took place on Monday, 4 April and focused on the priorities of DG TAXUD for 2016.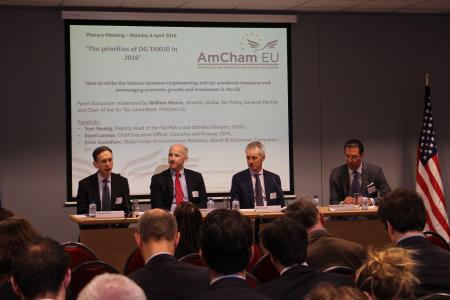 The event featured a panel discussion on the balance between implementing anti-tax avoidance measures and encouraging economic growth and investment in the EU, with:
Erick Gustafson, Global Head of Government Relations, Marsh & McLennan Companies, Inc;
Karel Lannoo, Chief Executive Officer, Economy and Finance, CEPS;
Tom Neubig, Deputy Head of the Tax Policy and Statistics Division, OECD.
William Morris, Director, Global Tax Policy, General Electric and Chair of the EU Tax Committee, AmCham EU, moderated the discussion. The panel discussed the implementation of the OECD Base Erosion Profit Shifting (BEPS) recommendations at the EU level through the Commission Anti-Tax Avoidance Package and the impact of the proposed anti-tax avoidance measures on EU competitiveness. The panellists moreover addressed differences between the EU and US tax policies, how EU tax policy can be used to promote investment in the Single Market, and why it has been difficult achieve tax harmonisation at the EU level.
Please find AmCham EU's position paper on the Anti-tax Avoidance Package here.
During the lunch, a keynote address was provided by Stephen Quest, Director-General, Directorate-General for Taxation and Customs Union (DG TAXUD), European Commission.