You are here
The power of local suppliers: more than shipping partners
The Van Berkel Group is located in Veghel, a town in the North Brabant region of the Netherlands. The company, founded in 1955 as a family company in agriculture, has expanded and diversified into many new sectors. In 2003, Van Berkel Logistics was established, with shipping services starting up in 2005, in the form of container transportation by barge from Veghel to Rotterdam and Antwerp. Read how Van Berkel managed to grow exponentially and leverage the power of exports by collaborating with Mars.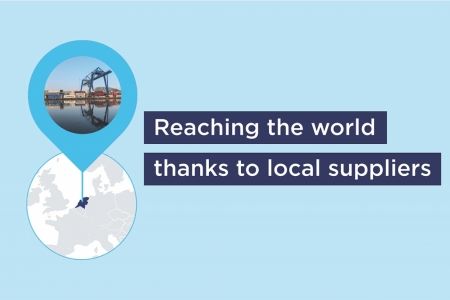 Back then the company would ship 3000 containers per year. Fast forward to 2020, and that figure sits at 52 000 per year. The family company has grown to 210 employees across the whole group, with 90 employees dedicated to its logistics branch. Van Berkel's collaboration with Mars began in 2013. Mars represents an important client for the logistics company, with orders for around 5000 container shipments per year. Of these, 60% are 'deep sea' shipments across the globe, versus 40% 'short sea' locations. However, Van Berkel's partnership with Mars goes beyond simply shipping. Van Berkel is integrated into Mars factory proce, and the 'make and ship' principle ensures that whatever Mars produces can go directly into a container, which will be shipped on demand. Van Berkel's service offering also encompasses quality control of containers. Thanks to Van Berkel's logistics services, Mars products are able to reach consumers around the world who can enjoy the familiar taste of their renowned confectionery.
Acknowledgement: Michel van Dijk, Director, Van Berkel Logistics
The success story of global trade also lies in strong partnerships between companies of all sizes. Find out more about European ecosystems connecting small businesses with larger American companies.