You are here
Position Paper: Brexit and the future EU-UK relationship: The US business view
The UK's withdrawal from the EU is raising important questions for the US business community in Europe. American companies – who are heavily invested in both the EU and the UK – require certainty about the path forward for the new relationship.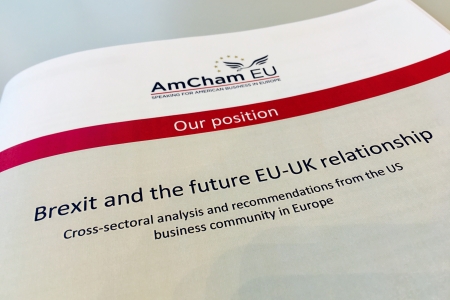 Significant disruption or changes to this relationship, or to the EU Single Market, could have profound effects on the ability of our companies to operate in these markets.
Having in mind that UK's withdrawal will affect all business sectors, AmCham EU released a position paper which aims demonstrate the cross-sectoral perspectives of our member companies, provide constructive input to negotiators on both sides of the Channel, and promote a prosperous future EU-UK relationship that best meets the needs of US businesses and citizens in Europe.
Susan Danger, AmCham EU CEO said "We want a future relationship that builds on the deep economic links between the EU and the UK and promotes a strengthened Europe and Single Market for business, consumers and citizens." – Read more here.
For further information, please contact Tim Adamson, Senior Policy Adviser at tad@amchameu.eu.