You are here
Optimising distribution with local services
HP Inc. is a multinational information technology company that develops personal computers, printers and 3D printing solutions. Distribution centres located in Germany serve as the epicentre of the company's European operations, with finished products arriving from its international factories, ready for shipment. Read how HP Inc.'s parterships with local businesses encourage the development of innovative solutions to specific problems.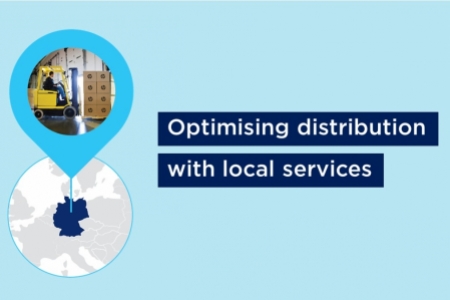 HP Inc. contracts three distribution partners in Germany. Among these, one is a local distribution company, by the name of LGI. LGI has been working with HP Inc. for 20 years, since it was founded as a spin-off from the company itself. Originally, HP Inc. was LGI's only customer, but nowadays the company accounts for 20% of LGI's custom. LGI employs 300-500 people for HP Inc.-related activity. They run one of HP Inc.'s German distribution centres – operating the warehouse, providing storage solutions, packaging products, loading them into trucks and shipping them to their destination. LGI also manages inventory and returns on behalf of HP Inc.
For local suppliers, working with HP Inc. is advantageous because it provides an opportunity to find innovative solutions to specific problems. Smaller local suppliers are often more capable of providing niche services than global competitors. For example, in order to manage its logistics activity, HP Inc. enlisted the services of a local partner, which was able to offer HP Inc. a specific optimisation tool to match its particular needs. The service offering was customised to HP Inc.'s use-case to such a degree that no other global supplier on the market could rival the service.
Thanks to local suppliers, HP Inc. benefits from flexibility gains. By outsourcing, the company can reduce sunk costs in warehousing infrastructure and resources. HP Inc. can therefore focus its resources on its core competency of producing its bestin-class technology hardware.
Acknowledgement: Volker Schmitz, Global Head of Markets Supply Chain Operations
The success story of global trade lies in strong partnerships between companies of all sizes. Find out more about European ecosystems connecting small businesses with larger American companies.