You are here
October Plenary meeting focuses on the upcoming EU Trade Strategy
AmCham EU held its October Plenary meeting on Tuesday 20 October.
A panel which included Anoush der Boghossian, NGO Liaison Officer - Public Forum Manager - Social Media Manager, World Trade Organization (WTO); Christofer Fjellner, Member of the European Parliament (SE, EPP); Johannes Kleis, Head of Communications, BEUC; and Carsten Dannöhl, EU Government Affairs Manager, Caterpillar, discussed the new EU trade and investment strategy 'Trade for All'. Mark van der Horst, Director EU Affairs, UPS and Chair of the Trade and External Affairs Committee, AmCham EU, moderated the debate.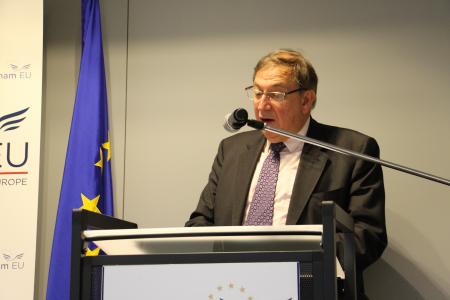 This panel discussion was followed by a luncheon attended by AmCham EU members, during which Jean-Luc Demarty, Director General, DG TRADE, European Commission, gave a keynote address.
For further information, please contact Adriaan Scheiris, Policy officer, at asc@amchameu.eu.
Read our position paper on the European Commission's new Trade and Investment Strategy here. You can also read our press release here.
See photos from the event here.