You are here
New season kicks off with discussion on the Digital Single Market
AmCham EU kicked off its autumn calendar with a panel discussion on the challenges and opportunities of the Digital Single Market.
The panel included Dita Charanzová, Member of the European Parliament (CZ, ALDE); Kamila Kloc, Deputy Head of Cabinet, Vice President Andrus Ansip, European Commission; Stefan Koreneef, Counsellor Economic Affairs – Telecom and Digital Agenda & Better Regulation, Permanent Representation of the Netherlands to the EU; and Liam Benham, Vice President, Government and Regulatory Affairs, Europe, IBM. Pastora Valero, Senior Director, Head of Government Affairs, Europe, Middle East, Africa & Russia, Cisco and Chair of the Digital Economy Committee, AmCham EU, moderated the discussion.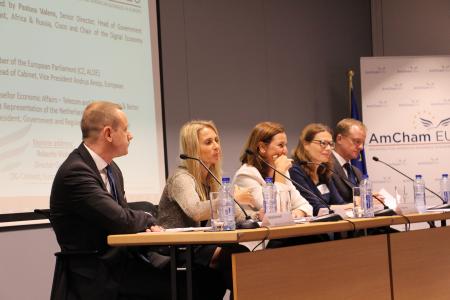 Following the discussion Roberto Viola, Director General, DG CONNECT, European Commission, gave the keynote address during a luncheon attended by AmCham EU members.
For further information, please contact Roger Coelho, Policy officer, at rco@amchameu.eu.
See photos from the event here.