You are here
Navigating tomorrow: a recap of our 2023 Transatlantic Digital Economy Conference
This year's Annual Transatlantic Digital Economy Conference 'The geopolitics of technology', took place on Tuesday, 10 October 2023. The topic of the conference was on how we can manage the risks associated with emerging technologies and why we need to think globally rather than regionally about the rules governing these new technologies. In a keynote video, Didier Reynders, European Commissioner for Justice, European Commission focused on how Europe can stay ahead on digital affairs and set global standards. We were also joined by Thomas Skordas, Deputy Director-General, Directorate-General for Communications Networks, Content and Technology, European Commission who shared his perspectives on how the transatlantic relationship can play a key role in shaping the rules for technology that benefit everyone.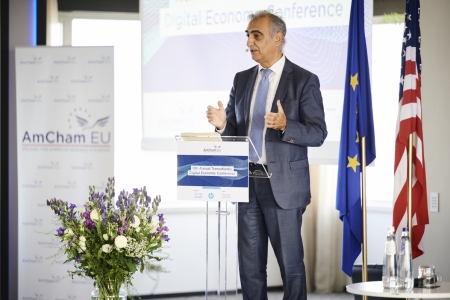 Pilar del Castillo, MEP (EPP, ES) and Danielle Gilliam-Moore, Director, Global Public Policy, Salesforce kicked off the conversations by expanding on how to avoid fragmentation in the Single Market caused by differing legislation.
The first panel of the day explored how Europe can prepare for growing concerns around cybersecurity with a particular focus on emerging technologies. The panellists discussed how to set clear rules around technology so that industry can comply. The speakers then explained that strong ties with international partners is key for setting standards that are consistent with existing obligations. Platforms like the EU-US Trade and Technology Council, EU-US Cyber dialogue and the EU-US Summit are fundamental to set standards that industry can follow. During the panel we heard from Antonio Freitas, Leader, Public Sector and Sovereign Cloud Chamber of Excellence, Europe, Middle East and Africa, Oracle; Christiane Kirketerp de Viron, Head of Unit, Cybersecurity and Digital Privacy Policy, Directorate-General for Communications Networks, Content and Technology, European Commission; Andreas Mitrakas, Head of Unit, Market, Certification and Standardisation, European Union Agency for Cybersecurity (ENISA) and Rohan Singla, Head of Security and Privacy, ChargePoint. The panel was moderated by Catherine Stupp, Reporter, WSJ Pro Cybersecurity, The Wall Street Journal
The last panel of the day looked squarely at how the rules governing AI need to be fair and accessible, so the benefits of this technology are felt globally. Attendees heard from Juha Heikkilä, PhD, Adviser for Artificial Intelligence, Directorate-General for Communications Networks, Content and Technology, European Commission, Eva Maydell, MEP (EPP, BG); Francesca Rossi, AI Ethics Global Leader, IBM and Miguel Valle del Olmo, Digital Transformation Attaché, Permanent Representation of Spain to the EU. Moderating the panel was Andrea Rodríguez, Lead Digital Policy Analyst, EU Digital Agenda, European Policy Centre (EPC)
Closing the conference was Jennifer Bachus, Principal Deputy Assistant Secretary, Bureau of Cyberspace and Digital Policy, US Department of State who gave her thoughts during a keynote speech followed by a questions and answers session with Susan Danger, CEO, AmCham EU. The conference closed with a networking reception.