You are here
Mitigating the health, social and economic crises
COVID-19 has been more than a health crisis. It affected societies and economies at their core. To mitigate the impacts of the pandemic, the French Presidency is focusing on constructing a union that trusts science, fights discrimination and secures a prosperous future for the next generation. In this context, the 27 ministers for health are meeting to discuss the EU's ambitious healthcare agenda. Learn more about the priorities of American companies in Europe for healthcare policy.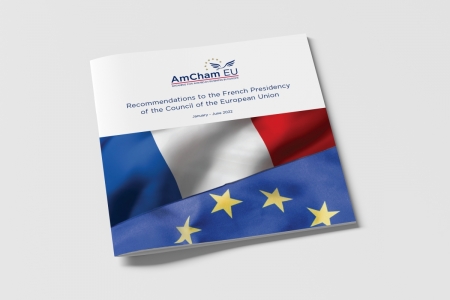 On 10 February, France will welcome health ministers in Grenoble for an informal meeting. To strengthen the EU's public health policies and ensure a smooth economic recovery, the French Presidency will focus on promoting responsiveness, coordination and solidarity.
AmCham EU supports the EU's efforts to overcome the impact of the pandemic and ensure a sustainable recovery. Our member companies have outlined the following priority areas to boost employment, improve social policy, strengthen healthcare systems and protect consumers:
Antimicrobial resistance (AMR): Tackling this threat should be a top priority. AMR is responsible for 33,000 deaths per year in the EU. If left unchecked, it could overtake cancer as the leading cause of death in the bloc by 2050.
Beating Cancer action plan: Cancer is among the leading causes of premature death in the EU. The social and economic cost of non-communicable diseases is significant.
Digitisation of health: European approaches to data must foster a life sciences ecosystem that can capitalise on innovative health technologies. The European Health Data Space provides an opportunity to leverage the European digitalisation of healthcare.
Health Emergency and Preparedness Response Authority (HERA): HERA is necessary to ensure coordinated responses by the EU to tackle cross-border health threats.
Health technology assessment (HTA): In the light of the compromise reached on the HTA Regulation, Member State should retain the autonomy to make decisions regarding pricing and reimbursements (P&R). The scope of the Regulation should be limited to joint clinical assessments for pharmaceutical products.
Integrated approach to life sciences: A holistic approach bringing together patient organisations, healthcare professionals, industry and policymakers will provide patients with the maximum benefits.
Gender balance: Equality between men and women can be fostered by using evidence to underline the need for gender-friendly policies and demonstrating that female leadership leads to concrete economic benefits.
Modernisation of EU consumer law: Awareness of consumer rights needs to be higher among traders and consumers to avoid insufficient compliance and high fines. The European Commission should set the tone for the harmonisation of consumer rights for all goods and services.
Workforce size expansion: Gender, age, origin, social background, sexual orientation or health condition should never become barriers to success and well-being. The participation of all individuals in the workforce will lead to considerable social and economic gains.
As the EU recovers from the pandemic, regulatory initiatives should continue to focus on areas aiming to address the COVID-19 crisis, rebuild Europe's economy around the twin transitions of environmental protection and digitalisation as well as create an enabling environment for businesses to address emerging challenges.. Read AmCham EU's set of recommendations to the French Presidency here