You are here
Meet the Youth Entrepreneurship Award finalists
As the EU celebrates the European Year of Youth, AmCham EU and JA Europe are pleased to announce the three finalists for the 2022 Youth Entrepreneurship Award. The award, now in its 10th edition, recognises young people's entrepreneurial spirit and aims to foster innovation in Europe. The finalists were selected from a pool of applicants from all over Europe. Each will receive a monetary prize as well as a contribution for their local JA Europe organisation. In addition to funding, the winning company will receive expert mentorship from AmCham EU's senior executives. The winner will be selected by a high-level jury and announced on Wednesday, 15 June at AmCham EU's Gala evening.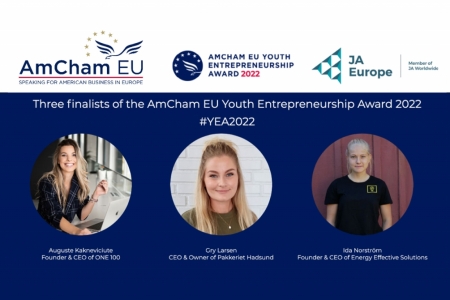 The three outstanding finalists are:
Pakkeriet Hadsund
Entrepreneur: Gry Larsen
Country of origin: Denmark
Pakkeriet Hadsund offers custom-made, environmentally friendly packaging and assembly solutions, with a special focus on sustainable and recycled packaging. It also handles quality assurance, storage of products and logistics in a flexible and quality-conscious manner. With a unique corporate social responsibility profile and a belief in the potential of all people, a core goal of the business is empowering all its employees.
Energy Effective Solutions
Entrepreneur: Ida Norström
Country of origin: Sweden
Energy Effective Solutions programs and installs energy-efficient electrical installations for companies and private individuals. Its diverse projects range from automated control systems to solar cells and electric car chargers. With every installation it aims to contribute to a better and more sustainable ecological, economic as well as social environment.
ONE 100
Entrepreneur: Auguste Kaknevičiūtė
Country of origin: Lithuania
ONE 100 is a sustainable clothing brand creating classic, luxurious fashion pieces 100% made from orange peels. The clothes are durable and lasting, and created with materials that would otherwise end up in a landfill. ONE 100 takes sustainability seriously. It believes that a sustainable approach is no longer a luxury in the fashion industry but rather the only way forward.
Join the conversation on social using #YEA2022