You are here
Meet the Female Youth Entrepreneurship Award finalists
AmCham EU and Junior Achievement Europe (JA Europe) are pleased to announce the finalists of the 2021 Female Youth Entrepreneurship Award. Candidates from across Europe were in the running for the award after participating in a JA Europe programme, making it past the initial start-up phase and creating a business concept that showed potential. Since 2020, the AmCham EU award has shifted focus toward start-ups with a female CEO, founder or a key member of the team. Want to learn more? Meet the finalists.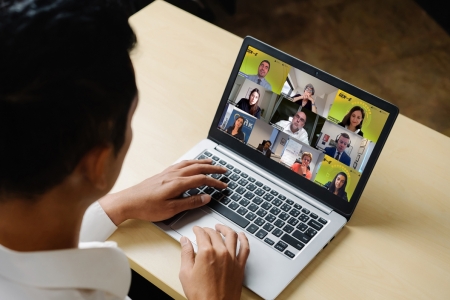 The shortlisted start-ups pitched their companies to a high-level jury panel during an online finale on Wednesday, 30 June 2021.
The five outstanding finalists are Beatriz Lorenzo Blázquez, Eneya Georgieva, Maria Wathne, Ourania Vlachou and Yağmur Can. The winner of the award will be announced on Thursday, 15 July!
Meet our finalists
Edutower
Entrepreneur: Yağmur Can
Country of origin: Turkey
'Edutower' is an online education platform that teaches 21st century skills to students and graduates who want to prepare themselves for the requirements of professional life. It was inspired by a realisation that education systems, schools and universities do not contribute sufficiently to the professional needs of students.
In combining the flexibility of online with the efficiency of offline, Edutower provides interactive courses lead by trained instructors, with tasks, workshops, quizzes, case studies and fun challenges all included in the package.
FindEUjobs
Entrepreneur: Beatriz Lorenzo Blázquez
Country of origin: Spain
FindEUjobs is a human capital enhancement portal that connects innovative companies with graduate students and interns across the European Union. It provides a unique opportunity for employers to post their open internship and junior positions and for candidates across the EU to apply. In this way, students are gaining an opportunity to launch their professional careers with the best companies both at home and abroad. Companies, on the other hand, will be gaining a pool of international talent and an opportunity to increase diversity in their workforce.
Paramate
Entrepreneur: Maria Wathne
Country of origin: Norway
Hydrogen sulfide, or H₂S, is a very toxic gas that can be produced in inaccessible areas in a fish farm. Sludge and accumulations of sediments that are left alone for a long time develop a H₂S-producing bacterium. Due to little research on H₂S, there are very few measuring instruments for fish farms today. This has resulted in breeders not trusting the existing instruments, in addition to not being sensitive enough.
Hydrogen sulfide outbreaks account for enormous financial losses, wastage as well as delays in production and delivery. Paramate is a simple and affordable innovation for the prevention of H₂S outbreaks, promoting better management of resources and the environment.
A sensor that measures H₂S levels in land-based fish farms will notify the fish farmers when changes in levels occur. An application is connected to Paramate's sensors, so that the H₂S values are available at all times. This gives the breeders a visual representation of the levels and gives the opportunity to react by notification.
Swim.me
Entrepreneur: Ourania Vlachou
Country of origin: Greece
Swim.me is a smart wearable device of an eco-friendly swimming cap and goggles for the orientation of blind swimmers. Through integrated waterproof sensors, the device notifies the athletes about the exact moment of the turn and their relative position in the pool with vibrations or sound alerts, enabling full user autonomy. The device is paired with application software to provide accurate performance analytics.
VR Lab
Entrepreneur: Eneya Georgieva
Country of origin: Bulgaria
VR LAB is a software-based virtual reality solution that allows for mobile 24/7 pre-clinical dental education and clinical decision-making support. The software application will be compatible with a wearable VR headset to be used by partner institutions, including medical universities and training centres.