You are here
March plenary meeting takes place with keynote address from Dominique Ristori
AmCham EU welcomed the European Commission's recent adoption of an Energy Union framework strategy at its monthly plenary meeting on 24 March 2015, with a keynote address delivered by Dominique Ristori, Director-General of DG Energy at the European Commission.
During his speech, Mr Ristori stressed the need for Europe to reduce its energy dependence and placed emphasis on the value of a strategic energy partnership between the US and EU.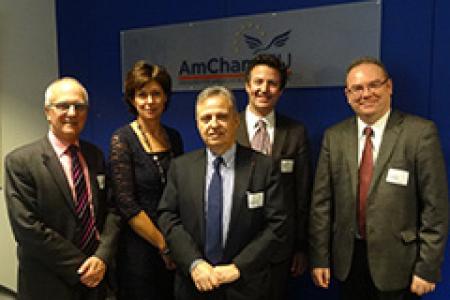 Prior to the Director-General's address, a panel featuring Guy Lentz, Coordinator for EU and International Energy Affairs at the Permanent Representation of Luxembourg to the EU; Annika Hedberg, Senior Policy Analyst at the European Policy Centre and Johan Scharpé, Manager EU Affairs with ExxonMobil Petroleum & Chemical discussed 'The European Energy Union: opportunities and challenges ahead'. The panel was moderated by Jérôme Bandry, EU Government Affairs Director at Caterpillar and Chair of the Transport, Energy and Climate Committee of AmCham EU
Members of the panel discussed the five proposed dimensions of the framework strategy and debated the meaning of 'Energy Union' as well as the extent to which the proposal differs from current EU energy policy. The panel also addressed the interaction between competitiveness, investment, security of supply and the transition to a low-carbon economy.