You are here
July plenary focuses on climate change and COP21
AmCham EU hosted its July plenary meeting on Tuesday 14 July. The topic was climate change and the upcoming COP21 negotiations in Paris at the end of the year. Keynote speakers were John Sammis, Deputy Chief of Mission, US Mission to the EU, and Artur Runge-Metzger, Director of International & Climate Strategy, Directorate-General for Climate Action, European Commission.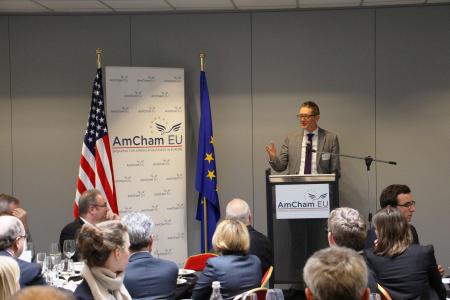 A panel discussion titled 'Challenges and opportunities ahead of COP21' followed Mr Sammis's keynote. The panellists were Mr Sammis; Sarah Blau, Climate Attaché, Permanent Representation of Luxembourg to the EU; Eleni Anna Dimitrakoudi, Political Advisor in the Committee on Environment, Public Health and Food Safety (ENVI), Group of the Progressive Alliance of Socialists and Democrats in the European Parliament; and Andrei Marcu, Senior Advisor, Head of the Centre for European Policy Studies (CEPS) Carbon Market Forum, Deputy Director of the Energy Climate House. Jérôme Bandry, EU Government Affairs Director, Caterpillar and Chair of the Transport, Energy and Climate Committee, AmCham EU, moderated the discussion.
For further information, please contact Stéphanie Brochard, Policy Officer, at sbr@amchameu.eu.
See photos from the event here.