You are here
Gender balance in the workplace discussed at April plenary
AmCham EU held its monthly plenary meeting on gender diversity on 21 April 2015; members were joined for a keynote address by Monika Ladmanová, Adviser to Commissioner Vera Jourová, European Commissioner for Justice, Consumers and Gender Equality.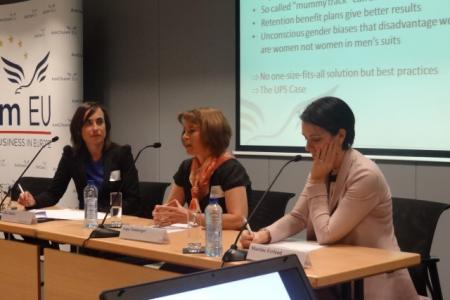 Ms. Ladmanová addressed the topic: "Gender balance in the workplace: how to close the gap?" and she also discussed Commissioner Jourová's priorities for the next five years in the area of gender diversity. Ms. Ladmanová wanted to stress, in particular, that the gender equality aspect of Ms. Jourová's portfolio was as important as the Justice part.
Prior to the keynote, a panel composed of Martine Ferland, Senior Partner at Mercer, and Anja Nürnberger, Division Manager for Air Compliance, Dangerous Goods & Ground Handling Procurement at UPS Germany, discussed "Effective business strategies to move gender balance forward". The panel was moderated by Elke Duden, Counsel at Linklaters LLP and Chair of the Employment and Social Affairs Committee at AmCham EU.