You are here
Gearing up for the EU-US summit: Transatlantic business perspectives
In celebration of President Biden's visit to Brussels, AmCham EU partnered with BusinessEurope and the United States Chamber of Commerce to welcome Susan Danger, CEO, AmChamEU; Marjorie Chorlins, Senior Vice-President for European Affairs, US Chamber of Commerce; and Luisa Santos, Deputy Director-General, BusinessEurope for a discussion on the role transatlantic business plays in helping Europe and the United States build back better.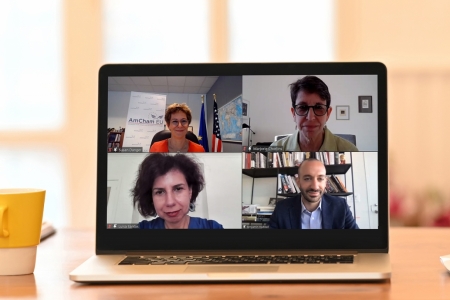 After a short introduction by Thibaut L'Ortye, Director of Public Affairs, AmCham EU, the discussion began under the moderation of Benjamin Haddad, Director, Europe Center at the Atlantic Council. The discussion centered on the mood of the transatlantic relationship and the symbolic importance of the President's first official visit abroad taking place in Europe. The panellists identified key business priorities that are expected to be addressed in the summit, ranging from addressing transatlantic trade irritants, to the creation of a Trade and Technology Council for closer regulatory cooperation.
As an organisation that is committed to emboldening the Transatlantic Relationship, AmCham EU identified areas in which the EU and US can build a strong partnership and seize the momentum. Read more about it in our recent paper on 'Emerging areas for EU-US cooperation', as well as in this year's edition of the Transatlantic Economy Study.
If you should have any questions on the event, do not hesitate to contact Alex Buyruk (ABU@amchameu.eu)