You are here
Gala 2017 celebrates youth, entrepreneurship and the arts
On Thursday, 8 June, AmCham EU welcomed more than 250 government officials, member companies and other stakeholders to the Concert Noble for a celebration of youth, entrepreneurship and the arts.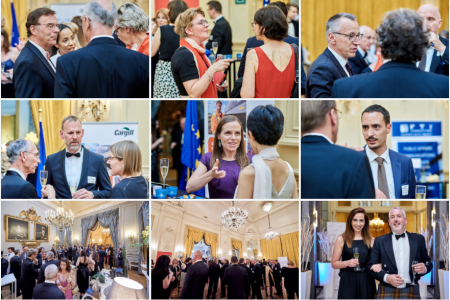 The event kicked off with a welcome reception and remarks by Susan Danger, CEO, AmCham EU, followed by the presentation of the 5th annual Youth Entrepreneurship Award by Nando Cesarone, President, UPS Europe.
The winner of this year's award, Oculus, a Romanian start-up founded by 18-year-old Tudor Popa, was given a cash prize and the opportunity for mentorship with AmCham EU's Executive Council members. The start-up created the Mitra glasses, device that provides essential aid and safety to visually impaired people during movement, using incorporated sensors and efficient algorithms.
Another highlight of the evening included a concert by the laureates of the Queen Elisabeth International Music Competition, Cello. Karl Cox, Chair, AmCham EU, introduced this year's winner and runner-up, Victor Julien-Laferrière and Yuya Okamoto, respectively.
AmCham EU is a long-time supporter of the Queen Elisabeth Competition and offers resources to present the laureates in the United States. Thanks to AmCham EU's partnership with the Phillips Collection, the winners of the Queen Elisabeth Competition will give a performance in Washington, DC in the autumn of 2017.
See photos and more from Gala 2017 here.
Did you attend this year's Gala? Please fill out our feedback form.