You are here
Fostering innovation through collaborative partnerships
Despite only having 10,000 inhabitants, Figeac in south-west France is home to a whole ecosystem of aerospace companies and suppliers. Collins Aerospace, a Raytheon Technologies company, is one of them. Its Ratier-Figeac unit is an internationally renowned centre of excellence for propellers. Collins Aerospace RatierFigeac employs 1,200 people in four key business segments. Its main undertaking is propellers, which account for about 60% of the Ratier-Figeac unit's activities. 60% of its total global expenditure on local suppliers is in France. Discover their success story.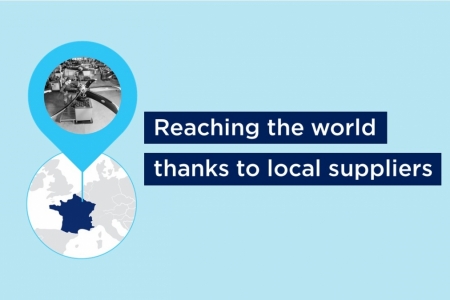 Collins Aerospace Ratier-Figeac calls on hundreds of local suppliers in the French market. Their overall reactivity; their geographic proximity; and their agile and innovative dynamic are all valued assets for Collins Aerospace. By working with suppliers, Collins Aerospace support an estimated 600 jobs in France on top of its direct employees.
A specific example of an outsourced service is propeller painting. Collins Aerospace Ratier-Figeac contracts the services of two local suppliers to perform the finishing and painting of their propeller blades within a lead time of 3 days. Traditionally competitors, the two companies have recently teamed up to collaborate on a technological innovation in their sandblasting processes before painting the blades. They have partnered up to automatise the process of sandblasting, adding even greater quality and efficiency to their collective service. For local suppliers such as the paint shops in Figeac, working with Collins Aerospace is a great opportunity: It is a well-known brand, with a focus on producing the highest quality. As the example of the paint shops attests, Collins Aerospace provides support to local suppliers to achieve the levels of service demanded. In turn, Collins Aerospace counts on its suppliers to deliver its reputed equipment.
*A Raytheon Technologies company
Acknowledgement: Patrick Derbois, Director of Supply Chains, Collins Propeller Systems
The success story of global trade lies in strong partnerships between companies of all sizes. Find out more about European ecosystems connecting small businesses with larger American companies.