You are here
Executive Council members discuss the importance of the Single Market with senior officials
Fifteen Executive Council (ExCo) members gathered in Brussels on 19-20 June for their spring plenary.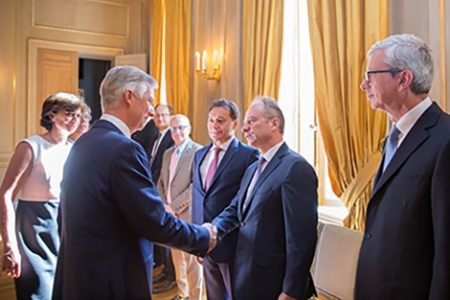 The group met with a number of senior officials, including Vice President for the Euro and Social Dialogue Valdis Dombrovskis, Commissioner for Trade Cecilia Malmström, Commissioner for Migration, Home Affairs and Citizenship Dimitris Avramopoulos, Director General for Internal Market, Industry, Entrepreneurship and SMEs Lowri Evans and H.M. King Philippe of the Belgians. The meetings focused on the importance of the Single Market, with support from the recently published study by AmCham EU, and what can be done to further integrate the European internal market.
This marked the first time Aongus Hegarty, President EMEA at Dell EMC, presided over the ExCo meetings as Chairman. Christian Morales, Corporate Vice President and General Manager EMEA at Intel, was recognised and thanked by the ExCo members for his contributions as Chairman of the group over the past two years.
The next ExCo plenary will take place 20-21 November in Paris.