You are here
EU and US leaders reset the transatlantic relationship
The American Chamber of Commerce to the EU (AmCham EU) warmly welcomes the announcement made on Friday, 5 March by President von der Leyen and President Biden to suspend punitive tariffs imposed in the WTO aircraft subsidies dispute. The four-month grace period will give time to negotiators to find a commonly-agreed permanent solution to the dispute on permissible aircraft subsidies.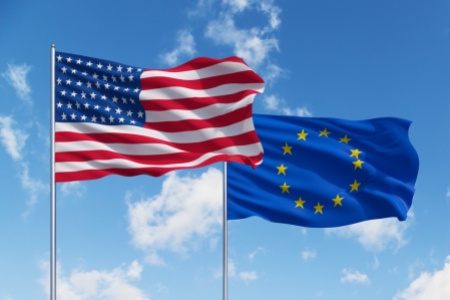 This is a positive development in EU-US trade relations, demonstrating the commitment of both sides to forge a strong partnership that will deliver tangible results. The suspension of retaliatory tariffs on both aircraft and non-aircraft goods is a welcome step that will boost transatlantic trade and comes at a time when both economies are beginning to recover from the devastating effects of the pandemic. Both Presidents have also identified avenues for further EU-US cooperation on key areas such as healthcare, climate change and foreign policy.
AmCham EU urges both partners to also consider the removal of tit-for-tat tariffs imposed on steel and aluminium products in the context of the Section 232 of the US Trade Expansion Act of 1962 investigation. AmCham EU continues to advocate for a permanent exemption for the EU from tariffs on imports of steel and aluminium.