You are here
Data Act: open approach is critical to success
The European Commission published its proposal for a Data Act. The American Chamber of Commerce to the European Union (AmCham EU) shares the EU's ambition to increase access to and further re-use of data. International data flows are the cornerstone of today's economy. By promoting increased data sharing, the Data Act can strengthen Europe's competitiveness and help achieve its digital transformation objectives.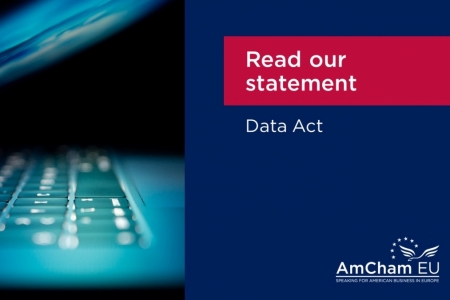 However, AmCham EU is concerned that some of the provisions risk disrupting functioning data sharing and processing models and imposing unjustified and disproportionate mandatory sharing and portability requirements. They may also hinder collaboration with international partners.
The new obligations should be realistic, balancing out the technical complexity of implementing new requirements with the need to foster users' trust and serve customers' interests. They should also recognise successful industry-led initiatives that meet similar objectives, as the many business-to-business (B2B) and business-to-government (B2G) data collaborations already demonstrating the benefits that more open approaches to data can yield.
For further background, please read AmCham EU's feedback to the European Commission's Inception Impact Assessment on the Data Act, as well as our contribution to the subsequent public consultation.