You are here
Building local partnerships to maintain networks
Since its foundation in 1971, Zülow AG, a family-owned company, has evolved from a one-man company to a highly specialised, 350-strong provider of complex electrical, data and communication technology and security solutions. The company has 24 apprentices. From its headquarters in Neuss, Zülow offers its services to its customers from a wide range of industries nationwide, usually using off the shelf products but also offering complex components. Zülow AG also patents individual solutions.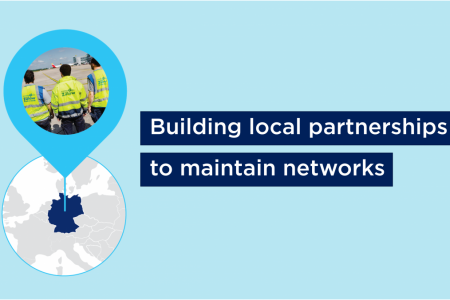 For almost 20 years, Zülow has been working in Germany as a trusted partner with UPS, a world-leading logistics company that offers comprehensive solutions for parcel and freight transport including international trade service offerings. In addition to supplying UPS with light switches, Zülow also maintains highly complex system controls. Miles of cables and fibre optic networks are installed and maintained by Zülow at UPS, including at the UPS European Air Hub in Cologne, North Rhine Westphalia. As the need for digital capabilities continues to grow for UPS customers and as UPS continues to facilitate increased international trade flows at its Cologne hub, UPS continues to rely on Zülow for its services. The products offered by Zülow indirectly support the international trade service offerings that UPS carries out for its Germany customers.
The long-standing cooperation with UPS has enabled Zülow to continue to grow its business and has opened doors for its industry. Zülow takes pride in providing continuity and high performance and seeks to deliver innovation and support for local and international supply chains. The family holds these attributes as the company's fundamental values. The trusting relationship that Zülow holds with its employees as well as the entrepreneurial family spirit of the organisation are critical to ensure its long-term success. By working with UPS, German-based company Zülow indirectly contributes to the success of Germany's international trade activities by providing solutions to UPS's complex technology needs.
Acknowledgement: Jutta Zülow, CEO, Zülow AG
The success story of global trade lies in strong partnerships between companies of all sizes. Find out more about European ecosystems connecting small businesses with larger American companies.