You are here
Brussels Briefing for AmChams in Europe takes place
Between Wednesday 16 and Friday 18 March 2016, AmCham EU hosted the Brussels Briefing for colleagues from the national American Chambers of Commerce (AmChams). 25 representatives from AmChams in Europe and wider Europe participated in the Briefing. This took place in the context of the Transatlantic Week.
Find out more here!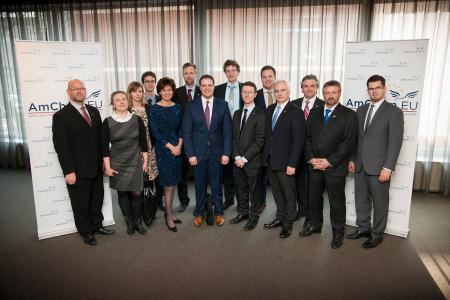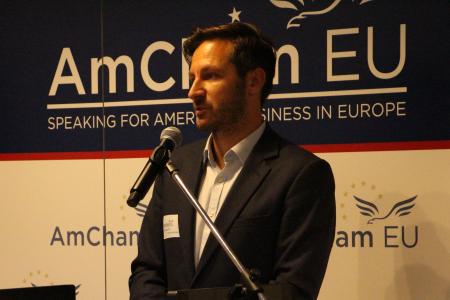 The Briefing opened with a best practices session focused on policy and communications which provided an opportunity for AmCham EU to discuss and present how it strategizes, plans and executes advocacy campaigns. The best practices session was followed by a working lunch focused on the challenges of communicating EU policy. The luncheon, which featured the participation of Regional Senior Commercial Officers from 23 different US embassies in Europe, included a discussion moderated by Susan Danger, Managing Director, AmCham EU, and presentations by Pia Ahrenkilde Hansen, Director, Representations, Directorate-General for Communication, European Commission and John D. Breidenstine, Minister Counselor for Commercial Affairs/Senior Commercial Officer for Europe, US Mission to the European Union.
The Briefing then continued with sessions on TTIP and Digital Policy with an emphasis on collaboration and joint advocacy for the coming months. Invited speakers from the European Commission, AmCham EU members, colleagues from the AmChams and Senior US Commercial Service Representatives in Europe participated in this session. The day closed with the Transatlantic Reception at the European Parliament which presented an opportuniy to network with different stakeholders.
The Briefing resumed on Friday since everyone was attending AmCham EU's annual Transatlantic Conference on Thursday. Throughout Friday morning the representatives participated in a series of sessions focused on Healthcare, Environment, Transport, Energy and Climate as well as Financial Services and Customs. The Briefing ended with a luncheon featuring a presentation by Ryan Heath from Politico. The latter gave his views on current affairs with a specific focus on the politics of the European Union.