You are here
BritishAmerican Business launch transatlantic trade and investment partnership (TTIP) report
Following successful twin launch events in Brussels and London BritishAmerican Business (BAB) are pleased to share its comprehensive TTIP case study publication: 'Four Sectors, Many Stories, One Ambition: Leading UK industries make the case for TTIP'. The report draws on the learnings from BAB's 'Open for Business' initiative, a series of sector-specific events exploring the benefits of a comprehensive EU-US trade and investment partnership (TTIP) agreement held in collaboration with national and local partners across the UK.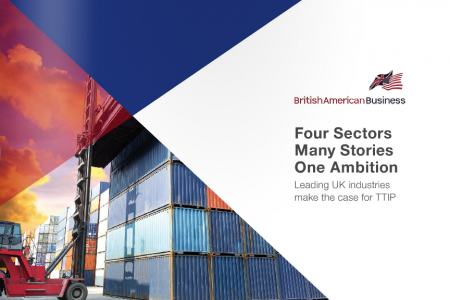 'Four Sectors, Many Stories, One Ambition' presents the case for TTIP through whole sector stories from the smaller companies, who stand to benefit the most from a comprehensive trade deal, to large multinationals, all who contribute to growth and employment across the UK.
To learn more about the series and BritishAmerican Business' wider TTIP work, click here.