You are here
Annual General Meeting 2017
On Tuesday, 20 June, AmCham EU held its Annual General Meeting where members reviewed last year's accomplishments, how the organisation has evolved over the last 18 months and the outlook for 2017.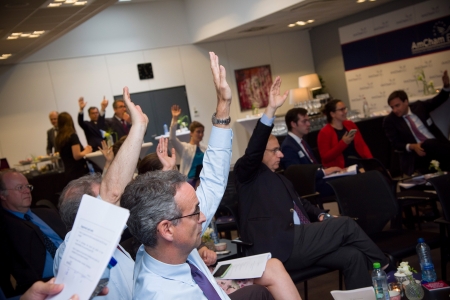 The video capturing these many activities can be found here.
The secretariat participated in an interactive session showcasing three case studies to demonstrate how modernisation and the perception survey findings have influenced how we advocate on issues. Our advocacy now has a more strategic, targeted approach which can incorporate communication strategies, infographics, video, outreach and publications. Three members of Amcham EU's Executive Council, Aongus Hegarty, President of Dell EMC, EMEA; Bert Boers, Vice President, South West Europe, SAS institute and Reiner Roghmann, Vice President of Dow Chemical, EMEA participated in a panel moderated by CEO Susan Danger on 'Leading a business in uncertain times".
The AGM also included reporting on the annual accounts, 2017 budget, and 2018 membership dues. There was also voting on changes to the Rules of Association. A summary of all of the information related to budgets, dues and rules will be forthcoming.