You are here
Annual ACE Best Practices Conference takes place in Milan
The Annual AmChams in Europe (ACE) Best Practices Conference took place last week in Milan, Italy, with AmCham EU represented by Susan Danger, Managing Director, and Maggy Peeters, Events Manager, AmCham EU.
At a roundtable organised by AmCham Italy, Susan Danger discussed policy coordination among the national AmChams as well as the ongoing negotiations on the Transatlantic Trade and Investment Partnership (TTIP).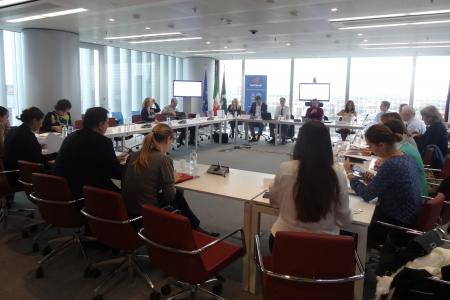 Participants attended a welcome reception at the residence of the Consul General of the United States of America in Milan, Ambassador Philip T. Reeker, attended by representatives of the USA Pavilion, including Ambassador Douglas T. Hickey, Commissioner General of the USA Pavilion.
A meeting was also held at the Palazzo Isimbardi with the leaders of the City of Milan.