You are here
AmChams in Europe webinar on the COVID-19 crisis and economic recovery
Last week, on Friday, 3 July, the AmChams in Europe network hosted the second live webinar on the topic of The COVID-19 crisis and economic recovery – How is business across Europe and Eurasia responding to these challenges? The discussion during the panel focused on the current reality for business around the world as well as the steps needed for economic recovery.
The panelists included 4 members from AmChams across Europe and wider Europe:
Maxime Bureau, Director for Government Affairs & Sustainability for Europe, the Middle East and Africa, 3M and Chairman, AmCham EU.
Malin Parkler, Country Manager, Pfizer, Chair, AmCham Sweden;
Leonid Tarasov, Country Manager, Delta Airlines, Board member, AmCham Russia;
Ruza Tomic Fontana, General Manager, Coca-Cola HBC for Croatia, Bosnia-Herzegovina and Slovenia, President, AmCham Croatia.
The event was moderated by Susan Danger, CEO of AmCham EU in her capacity as Chair of AmChams in Europe.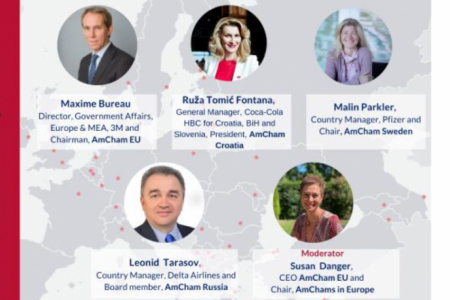 The panelists detailed the challenges and opportunities for their companies and their respective countries in the face of the pandemic. One word was repeated by every single panelist: trust. Panelists concluded that due to the current situation there is a lack of predictability and certainty, therefore, the role of every employer, government, business and every citizen is to work towards the common goal of strong economic recovery.
We would like to thank all the panelists for the engaging discussion and AmCham Slovenia as the AmChams in Europe Secretariat for hosting this event.