You are here
AmChampions Gala: promoting the role of the transatlantic relationship in Sofia, Bulgaria
Speaking at the American Chamber of Commerce in Bulgaria's AmChampions Gala last week, Susan Danger, CEO, AmCham EU touched on the resilience of the transatlantic relationship, the role of the private sector in Europe and more. From rule of law and shared values to making joint investments and committing to overcome the obstacles ahead, find out more on what she said.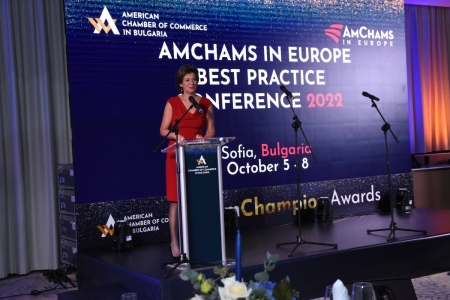 When it comes to transatlantic values, Susan highlighted that respect for human dignity, rule of law and democracy are the basis for strong political and cultural partnership. Grounded by these principles, Europe and the US are closer today than they've been in years. We need business and government leaders to invest in the technology and infrastructure that will help our economies thrive and keep our planet safe. A joint investment in our shared future is a must.
She added the private sector has an important role to play. AmChams in Europe members share the commitment of investing resources to strengthen the communities they work and live in. We'll need that commitment to overcome the obstacles ahead. Looking at the path forward, Susan closed by emphasising Europe and the US are stronger together. By speaking up for the relationship, you help bring the EU and US closer. We need that unity to defend human dignity, the rule of law and democracy across the continent.